Product Description
New 17 Original Xiaomi Mi Band 2 MiBand 2 1S 1A Smart Heart Rate Fitness Wristband Bracelet Tracker OLED Display
The product includes miband 1s 1a and 2. Please select according to the image properties
Work for : Bluetooth 4.0 Android 4.4 or iOS 7.0 and above mobile phones.
Specification:
Mi band 2 support Fitness, pedometer , heart rate monitor and sleep tracker
Battery:
Battery Capacity: 70mAh
Batteries Type: Lithium Polymer
Input current: 45 mA (TYP) 65 mA (MAX)
Weight: 7.0 g
The main material:Plastic, aluminum
Waterproof level:IP67
Internal configuration:
0.42 inches OLED display
Dialog 2 generation Bluetooth chip (Bluetooth 4.0 BLE)
ultra-low power accelerometers and optical sensor cardioverter
Wristband:
Total length: 235 mm
Adjustable Length: 155-210 mm
Material: thermoplastic elastomers, aluminum
Packaging list:
1* Mi band chip,
1* Wriststrap
1* Charging cable
1*
Chinese user manual
Fit models:
Xiaomi 2 / 2S / 2A,
Xiaomi
3, 4 ,
Xiaomi
Note,
Xiaomi
4c, red rice 1S, red rice 2 / 2A / 3,
Red Rice Note / Note2 / Note3, 5 ,
Xiaomi
4S, Xiaomi Max.
Work with Apple iOS 7.0 or later and iPhone 4s / 5 / 5c / 5s / 6/6 Plus / 6s / 6s Plus / SE.
Bracelet unlock Supported models:
Xiaomi 2 / 2S / 2A, Xiaomi 3, 4 , Xiaomi Note, Xiaomi 4c, 5 millet, millet 4S, red rice 1S, red rice 2 / 2A / 3,
Red Rice Note / Note2 / Note3, Xiaomi Max, Bluetooth phone support Android 5.0 or 4.0.
Basic Information
Model
Xiaomi Mi Band 1S (XMSH02HM)
Color
Black
Water-Proof
IP67
Bluetooth
V4.0
Touch Screen
No
Dimension
9.06 x 0.67 x 0.35 in (23 x 1.7 x 0.9cm)
Wrist strap length
Adjustable, 157mm to 5mm
Weight
0.35 oz (10g)
Sensor
Light-sensitive
Material
Metal surface material
Full magnesium – alloy
Body shell
Polycarbonate
Wristband Material
Dow TPSIV
Compatible OS
Supports Android 4.4 or above, Bluetooth V4.0 Android cell phones; Suitable for IPHONE 4S/5/5C/5S/6/6PLUS with iOS 7.0 or above.
Battery
Capacity
45mAh
Type
Li-Polymer Battery
Standby Time
10 Days
Thickness
Extremely narrow 8mm Battery
Input voltage
DC 5.0V
Input Current
25mA
Package Contents
1 x Bracelet
1 x User Manual
1 x Charging Cable (10cm)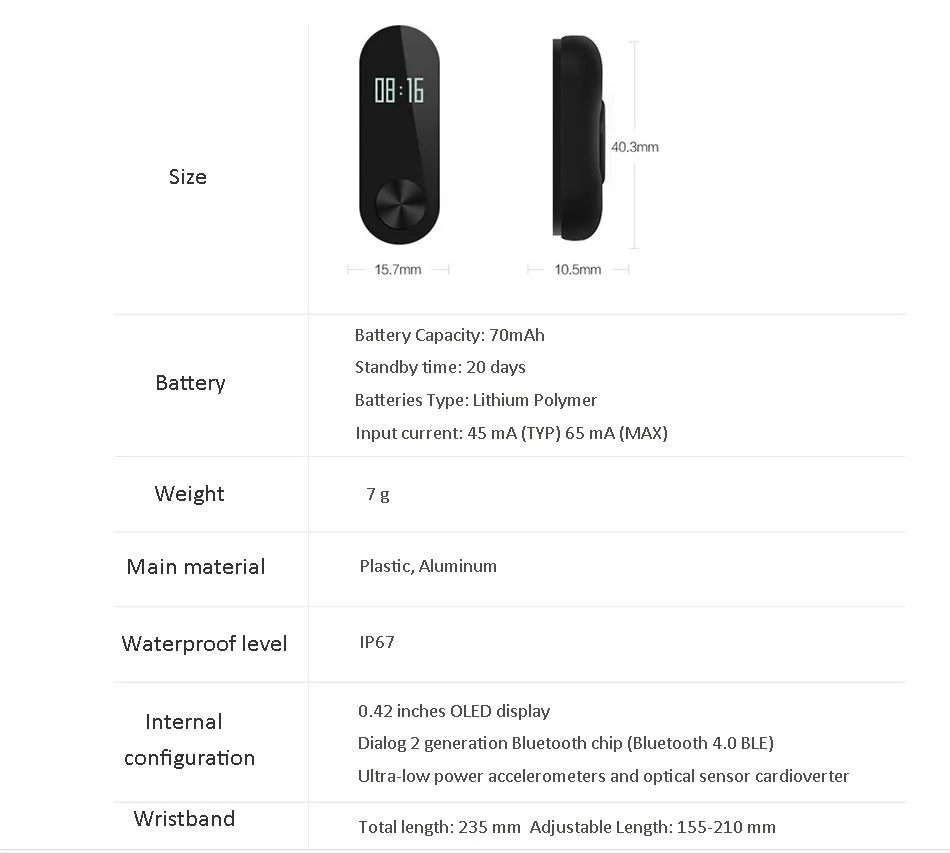 Xiaomi Mi Band 1S
US ADI sensors to detect movement and sleep quality
Light-sensitive version of the real-time monitoring of heart rate, sports science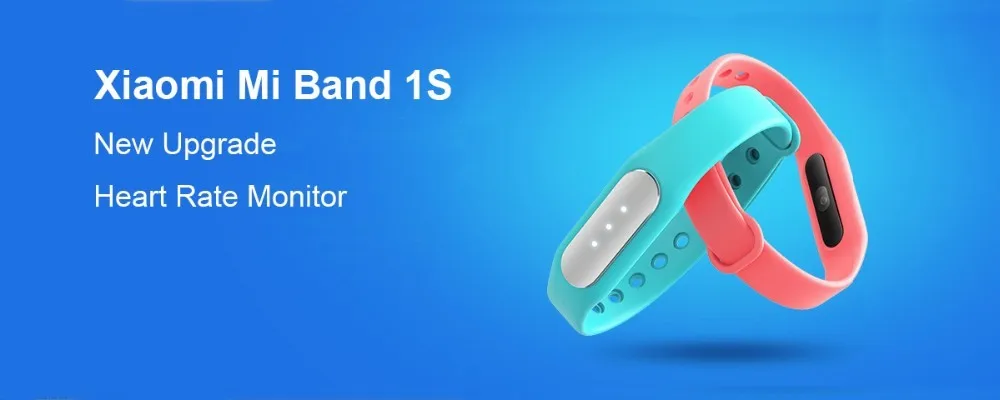 Monitor your daily fitness level
Monitor your activity levels, track walking distance and
calculate calories burned. Achieve the daily exercise targets you set
and work towards a healthier lifestyle!
Monitoring of heart rate
Real-time monitoring and recording, scientific planning exercise
During aerobic exercise, maintain a good heart rate, can better reduce fat and improve heart and lung capacity.
In the heart rate sensor using photoelectric light perception edition bracelet in, real-time motion of the heart rate detection
and prompt, so you adjust the motion state of science, sustainable and efficient consumption of fat. Millet sports with
running APP function, monitor your trajectory, pace, heart rate, manage the state of motion every moment.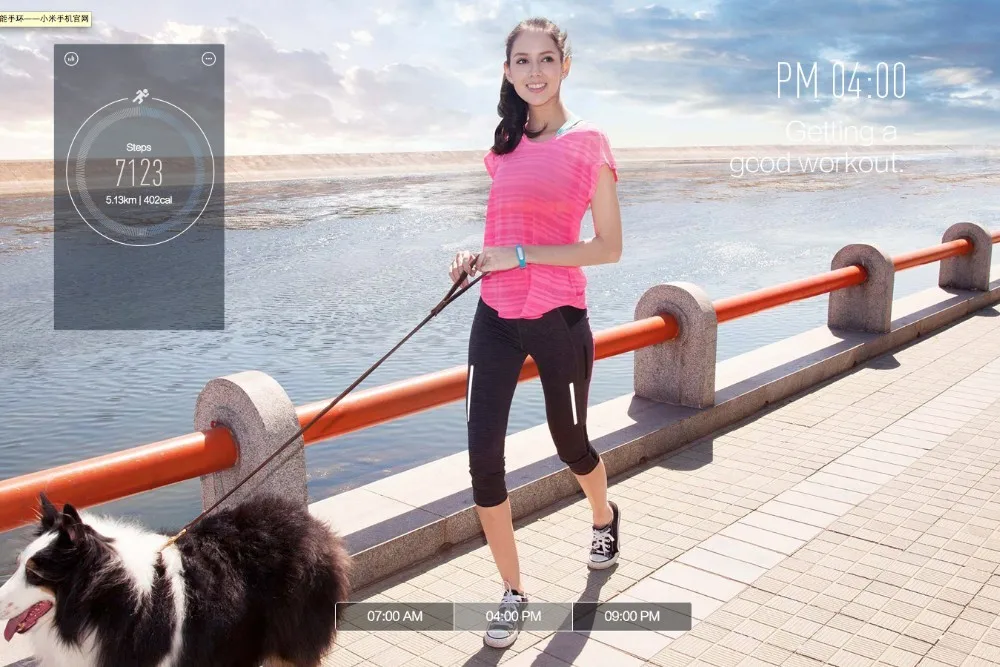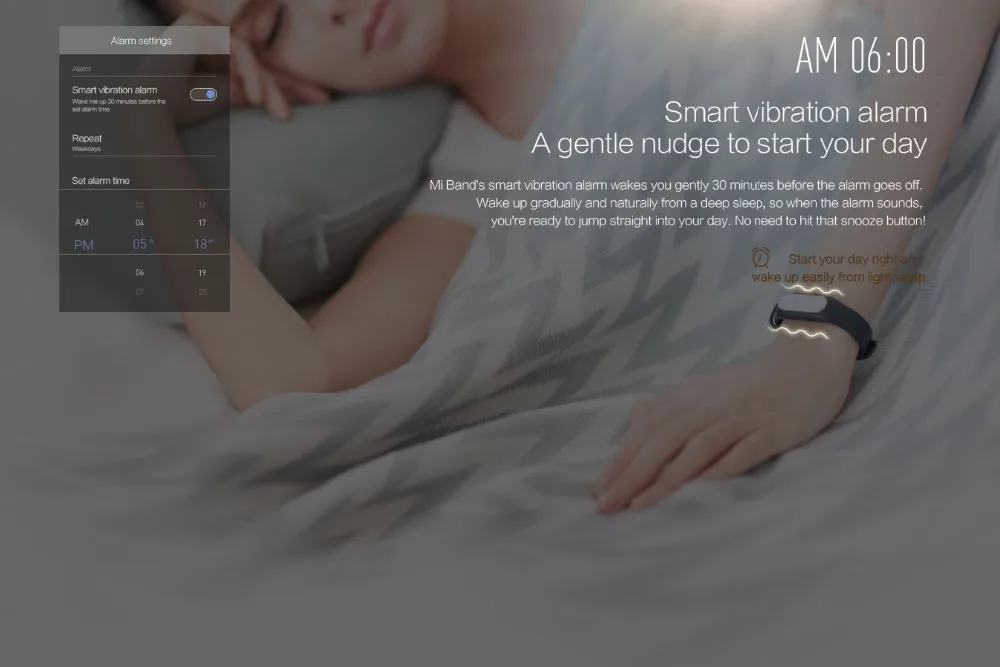 Automatic sleep monitoring analyzes your sleep quality.
Rest well, rest easy. Measure the length and quality of your sleep.
Get action plans from the Mi Band app to improve sleep quality based on data about your deep and light sleep cycles.
Sync with the app to analyze your fitness and sleep activities
to help you improve your lifestyle.
Sync with the Mi Band app in real-time via Bluetooth Low Energy (BLE) to view your fitness and sleep
records. Save up to a year's worth of data and get healthy lifestyle suggestions. Share and compare your data
with friends to see who's healthier !
Identify yourself with Mi Band.
Unlock. No passcodes required.
Forget complicated passwords. Simply reach for your phone, and unlock. Anyone else who tries will be
prompted to enter a passcode.
Your Mi Band can be linked to your Mi Account, enhancing the security of your personal data.
Incoming call alerts
Never miss an important call again. Ask Mi Band to sense when a call
has not been picked up within a certain time, and notify you immediately.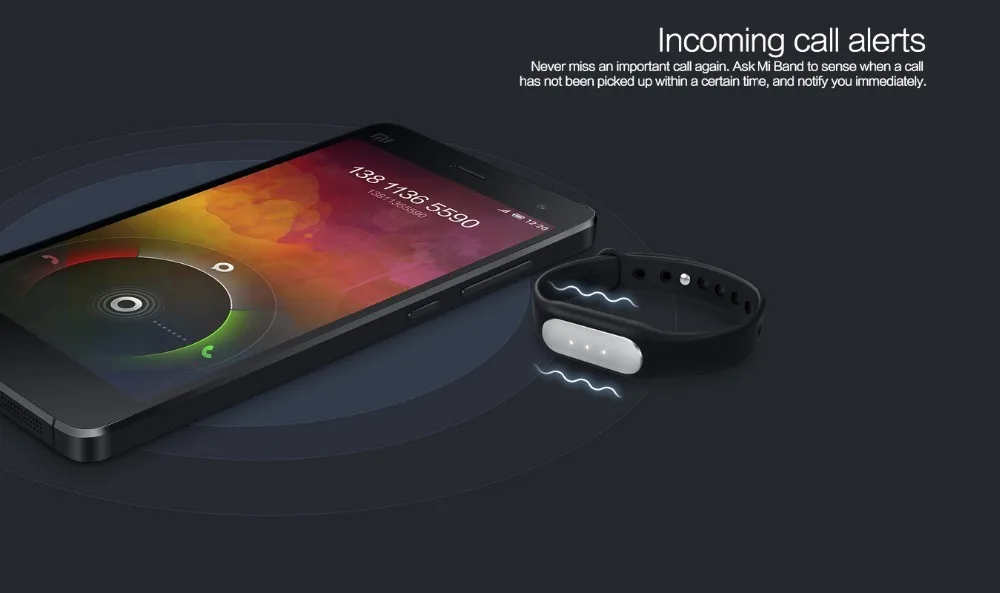 Meticulously made in a 12-step process
The 1mm thick aluminum alloy sensor surface is manufactured using a 12-step process. Compression molding,
polishing and sandblasting give the metal sensor a smooth texture, while CNC milling adds shine to its edges.
Three indicator lights, each 1 mm in diameter, are created using micro-laser perforation technology. Made up of 91 holes,
each 0.02 mm across, each indicator is injected with UV adhesives to prevent dust from penetrating the device.
Suitable for sensitive skin
The band is made of TPSiV – one of the world's best thermoplastic elastomers. Its outstanding anti-UV, anti-microbial,
and anti-allergic properties mean that it's unlikely to irritate even the most sensitive skin. It is soft to the touch and
fits snugly for ultimate wearing comfort.
Military-grade exercise sensor
Manufactured by US-based ADI, Mi Band's accelerometer has the lowest power consumption of any
comparable sensor. Its power consumption is less than one-fifth than that of similar accelerometers.
World-class Bluetooth 4.0 chip
The DA14580 low-energy Bluetooth 4.0 chip manufactured by Dialog can run
for over 4 years on a single 225mAh button power cell. This incredibly
low energy consumption means Mi Band can go up to 30 days between charges.
Ultra-thin 8mm battery
At 8mm, Mi Band's 41 mAh battery is extremely thin and powerful.
One full charge can last you 30 days – that's 4 times longer than other fitness bands.
10-day battery life
One full charge lasts 10 days, that's 4 times longer than regular fitness bands
IP67 water-resistant
The Mi Band is certified IP67 water-resistant.
Locate your Mi Band
Use the app to tell Mi Band light up and vibrate, as long as it is within Bluetooth range.

Xiaomi Mi Band 1A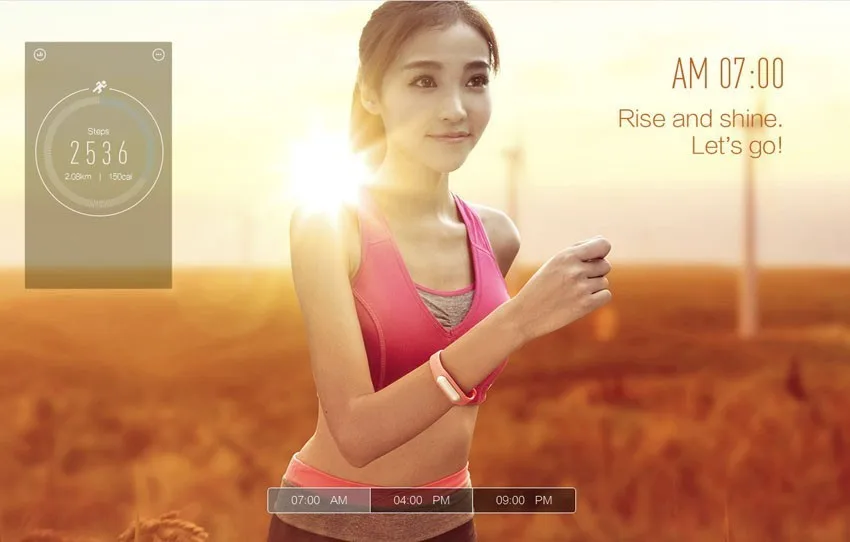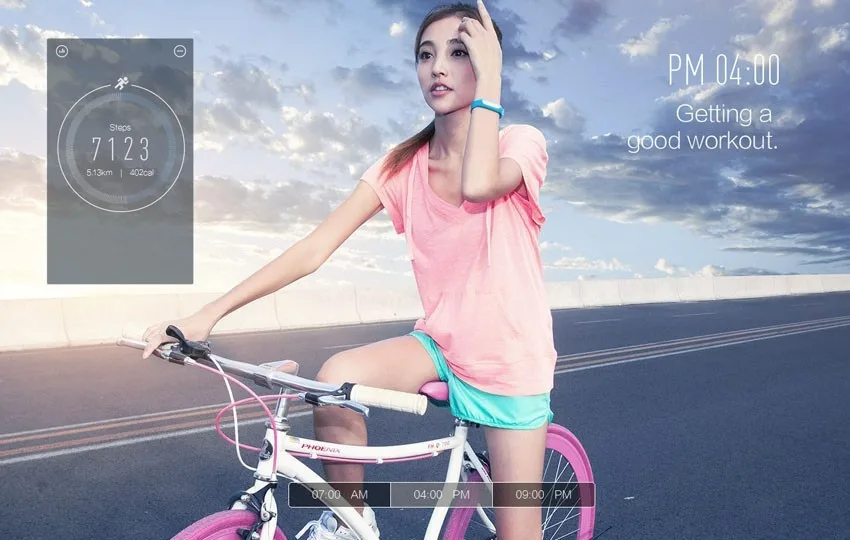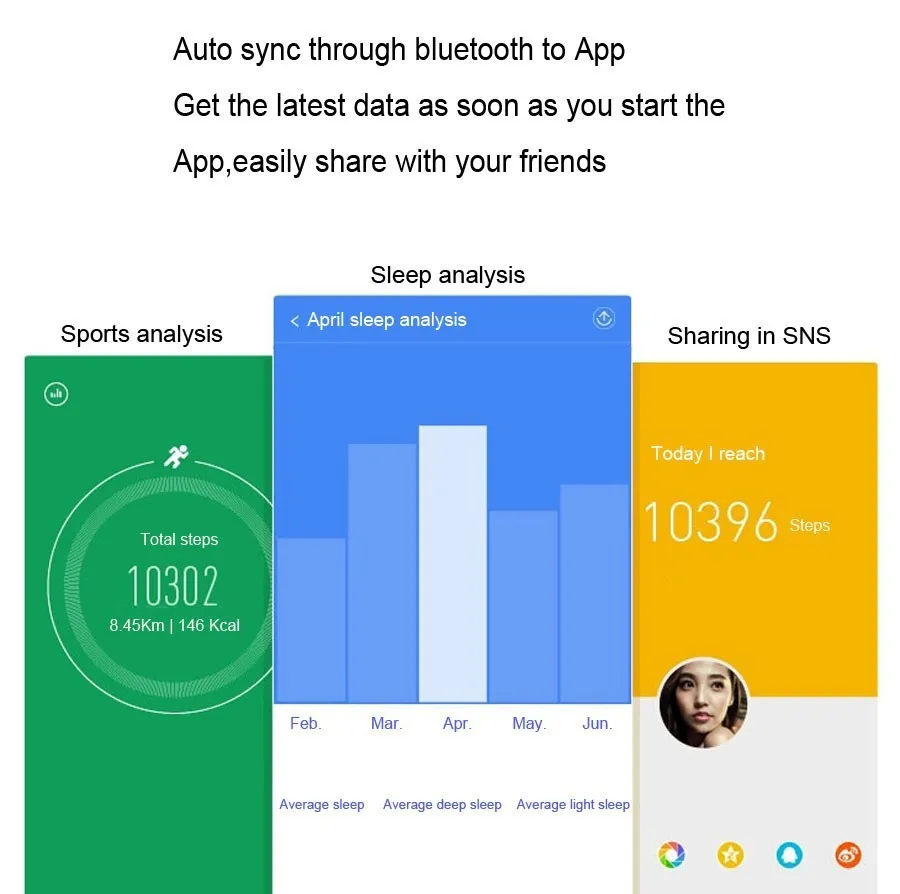 0